Tour overview
The Spiti Valley is a cold desert mountain valley located high in the Himalaya Mountains in the north-eastern part of the Indian state of Himachal Pradesh. The name "Spiti "means "The Middle Land", i.e. the land between Tibet and India. Spiti valley is a research and cultural centre for Buddhists. Highlights include Key Monastery and Tabo Monastery, one of the oldest monasteries in the world and a favourite of the Dalai Lama. It was the location of the scenery and cinematography in the Indian films Paap, Highway and Milarepa.
A new discussion is taking place now days- Leh Vs Spiti
Why choose Spiti-
-Spiti is less crowded.
-Different Different landscapes.
-Old monasteries Like Tabo, key and Dhankar.
-Beautiful Lakes like Chandertaal, Nako Lake and Dhankar Lake.
-You have done Leh Ladakh.

Batch Dates:-
07th May 2020
23rd May 2020
06th June 2020
20th June 2020
04th July 2020
18th July 2020
25th July 2020
01st August 2020
09th August 2020
22nd August 2020
29th August 2020
13th September 2020
27th September 2020
10th October 2020
17th October 2020
Day 01:- Shimla- Sangla (225 Kms – 07 Hrs)
In the morning drive to Sangla. Blessed with mesmerizing scenery, Sangla is also known as Sangla Valley, offers superb views of the snow-capped peaks bounding it. As River Baspa traverses through the valley, it is called Baspa Valley too. The place of coronation of the King of Kinnaur, Kamru Fort is the most popular attraction in Sangla. Upon reaching, check-in at a Hotel. Take rest. Later, visit village Kamru, the original capital of Bushahr Kingdom. Here, you can visit the Kamru Fort, erected in notable tower-style architecture. The fort also has a temple that is dedicated to Kamakhya Devi. Overnight in hotel.
Day 02: Sangla –Chitkul- Nako (129 Kms – 05 Hrs)
Nako
Have a nice breakfast with a view of the mountains and head to Chitkul. After having a hot, fresh breakfast while basking in the first rays of the sun, we head towards Chitkul. Chitkul can be described as one of the most scenic settlements in the valley and the last Inhabited village before the India-China border. This short drive from Sangla to Chitkul will be one of the most scenic drives you'll take with plenty of opportunities to take stunning photographs. Walk around the Baspa river and pay tributes to the Mathi Goddess at the temple in the village. After spending time in Chitkul, we turn around and head to Nako. You shall meet the Sutlej river at Sainj and from there on it will be with you till Spiti. Overnight stay in Nako Hotel.
Day 03: Nako- Sumdo- Tabo – Kaza (112 kms – 02 Hrs)
Dhankar Lake
Have an early breakfast and head to Kaza this day. The terrain will change after Pooh and you will see the end of the tree line. See the confluence of Spiti and Sutlej River at Khab. Enroute visit the Tabo Monastery which is close to 1000 years old now. The murals, thankas and paintings are believed to have been made in a single night by the Gods themselves. You can also hike to the meditation caves, if time permits. Visit Dhankar Monastery– Seat of the King in ancient times- the most beautiful setting of a monument which hangs on a cliff and overlooks the confluence of Spiti and Pin River. Hike to Dhankar lake, if your lungs permit. After that transfer to Kaza. Dinner and overnight stay at Kaza.
Gue Mummy – This mummy was found during an army excavation and was placed in a tomb in the year 1975. According to carbon dating, the mummy is believed to be around 500 to 600 years old.
Tabo Monastery – This Monastery is close to 1000 years old now. The murals, thankas and paintings are believed to have been made in a single night by the Gods themselves. You can also hike to the meditation caves.
Day 04: Kaza – Hikkim – Komic – Langza – (70 kms – 03 hours)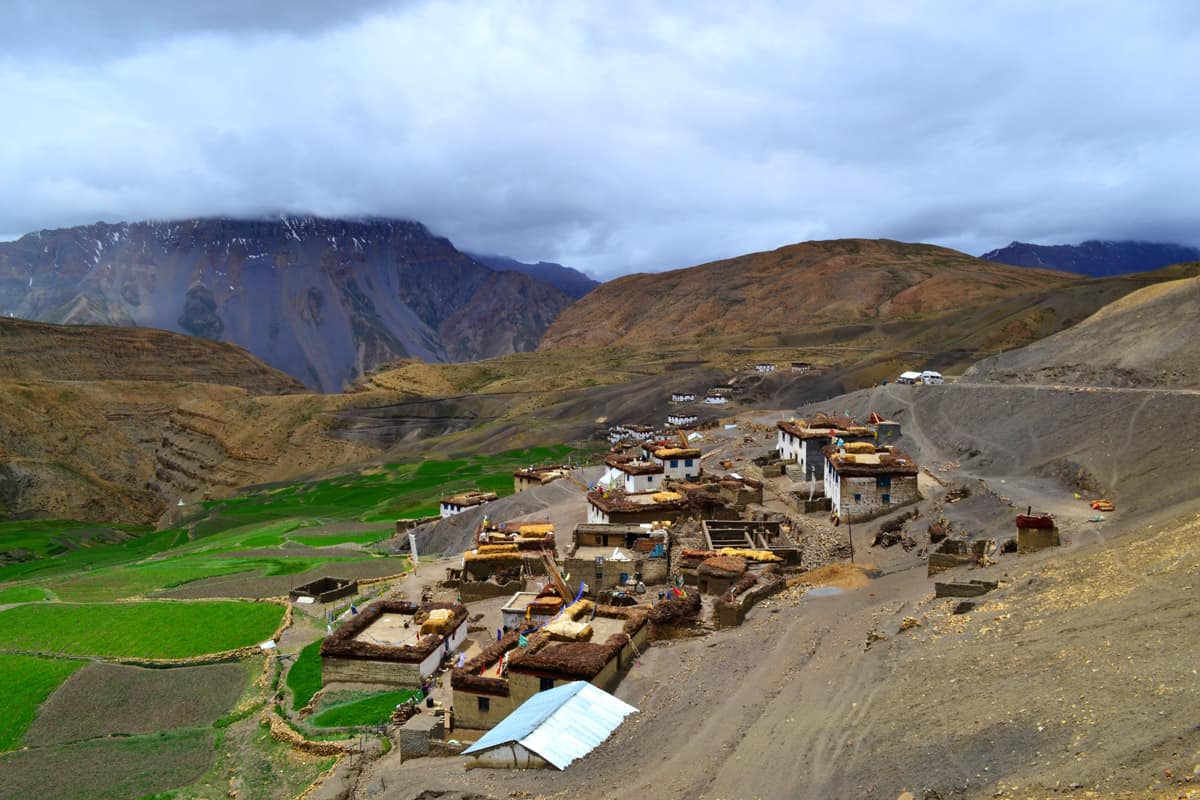 Hikkim
Take the morning easy and today we head to Langza- the main area for Fossils, Hikkim- the highest post office in the world and Komic- one of the highest villages in the world at 4600 meters. A visit to the Tangyud monastery in Komic is also worthwhile. You can see some snow laden peaks during this drive. To make this memorable, you can also hike from Langza to Komic- 3-4 hours. Visit the postmaster of the highest post office in the world at Hikkim and mail some postcards from here after that visit the oldest monastery in the region Key Gompa. Drive back to Langza. Overnight stay in Langza home stay. 
Day 05: Langza – Key – Kibber – Chandertaal
After breakfast, visit Key monastery and Kibber village.
Key Gompa is a Gelugpa sect monastery. Its hilltop position points to a post-thirteenth century construction. The three storied structure consists largely of storage rooms at the bottom level, while the middle floor houses the Dukhang- the assembly hall- and the Uppermost floor has another temple and the head Lama's quarters, on one side of an open terrace. The greatest wealth of Key Gompa lies in its collection of 'Thangkas' salvaged with difficulty from the devastating raids of the Dogars and the Sikhs in the 19th century.
From here a scenic drive takes you into the pasture country of Kibber. The pastures are spread over hundreds of square kilometers.
Kibber is small village and is the take off point for the popular trek to Tso Moriri in Ladakh. Further up six kilometers from Kibber, drive up to a still smaller village of Gate. Consisting of just six houses, it boasts of being the highest village in Asia connected by road. Drive back Kaza for lunch. Evening will be for relaxation. Overnight stay in Chandertaal.
Day 06: Chandertaal to Manali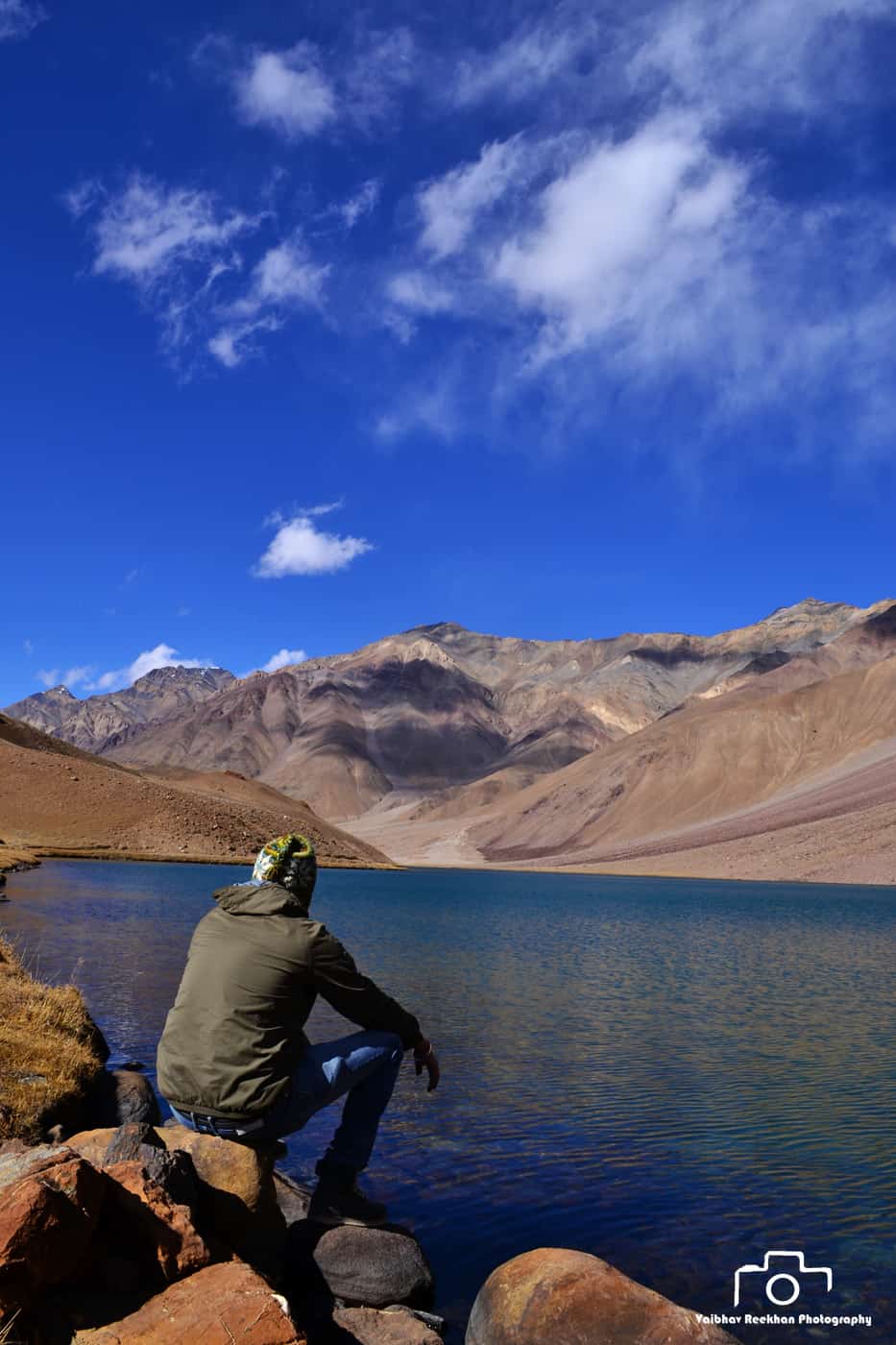 After early breakfast we departure to Chandertaal. Chandertaal Lake is renowned for its stunning Himalayan beauty. The lake is accessible via a SUV (8 km drive) from a point after crossing Kunzum La pass. The accommodation here is basic and therefore one has to be adventure frame of mind before considering. After that drive to Manali. Dinner and overnight stay in Manali Hotel.
Day 07: Manali Drop
After breakfast check out from hotel and drive to Manali Volvo Station. 
TOUR END
Terms & Conditions:-
No refund for any unused /missed: – hotel/cab/meals/or any service. These will be non refundable and non exchangeable.
Room are allocated as per hotel policy at checkin and category will be as per the booking confirmations provide by our end at the time of bookings.
No refund shall be claimed, if the services & amenities of hotel were not up to your expectations, it will be considered on case to case basis.
The itinerary is subject to favorable road and weather conditions. We will do the best to make alternative arrangements in case of bad weather and inaccessibility to the destination before or after the tour has begun. The cost of the tour or any part of it will not be refunded in an event of unfavorable conditions anytime during the tour days, after the tour begins. 
Terms & Conditions:
"HimalayanFootslog" organizes treks and other activities primarily in the Himalayan mountain ranges and in other outdoor regions. Travel in the remote mountain regions of the Himalayas involves certain inherent risks and dangers to life and property of both – the "HimalayanFootslog" team as well as the participants, which include but are not limited to, acts of God, danger from natural elements / extreme weather (landslides, cloudbursts, rock-fall, snowfall, etc.), problems arising out of exposure to high altitudes injuries / accidents on account of travel in difficult terrain, which may result in delays, injury, illness or under extreme circumstances, even death.
The participant is aware that the treks and related activities involve such risks and dangers; and that "HimalayanFootslog", within its limited capacity, takes viable measures to ensure the safety and comfort of the participants and to minimize the risks associated with these activities.
Understanding all the risks, dangers and related aspects mentioned in this section, participating in of any of the services offered by "HimalayanFootslog" constitutes a de-facto contractual arrangement between "HimalayanFootslog" and the Participant.
Accepting these terms and conditions denotes that the participant has understood all the terms & conditions mentioned hereafter, and that these terms and conditions shall be binding upon the participant at all times.
Imp Note:-
–          Advance amount is non-refundable.
–          If the Client is willing to cancel his/her booking because of whatsoever reasons including accident, illness, or any other personal reasons including non-payment of the balance payment, the Company is liable to recover Cancellation charges from the Customer.
–          However on exceptional cases company reserves the Right to refund the advance payment after deduction of service charge* (For example: Instant death & serious Health Issue. Please Note: Company would also need the certificates for the same for Refund)
Cancellation Policy
Cancellation has to be sent to us by Fax / Email.
From Date of booking – 30 days only communication charges of Rs 2000.00 per person
30 -15 Days prior to departure       25% of tour cost
14 -07 Days prior to departure       50% of tour cost
07- 03 Days prior to departure       75% of tour cost
02 Days/No show                         100% of tour cost
Above are the cancellation rules but we will put our best possible effort to minimize the cancellation charges.
Confirmation:- 
You can book the package by 50% of total amount.
100% payments will be cleared on arrival at first destination.
IMP Note:- For some specific destinations & trek we charge 100% payments before 02 days of your arrival.